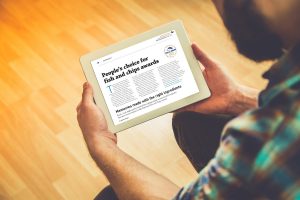 Digital magazine publishing is the next frontier, with income stream options from the creative use and integration of text, images, videos, social content and native advertising. The following facts will give you an overview of what's possible.
Discover the secrets of the fastest growing niche publishing today.
Fact # 1 – According to a 2016 study by the Pew Research Center, the percentage of adults who own a device (computer, smartphone or tablet) is around 80%. Accessibility to digital magazines is easier than ever.
Fact # 2 – The Statista study (September 2017) showed that there were over 97 million digital magazine readers, and that number is to increase by 7-10 million users per year, to reach a total of over 141 million readers by 2022.
Fact # 3 – Internet access continues to grow around the world. As of April 2016, eMarketer predicts that 47% of the world's people will have access to the Internet. This figure will exceed the 50% mark in 2018, and more than 4 billion by 2021.
Fact # 4 – The MPA's "Magazine Media 360" report states that digital magazine readers in 2017 are high-end, educated, professional, managerial, and young people.
Fact # 5 – In April 2017, eMarketer determined that people spend more than twelve hours a day online. Over five hours of that time are spent on digital content, and over three hours are spent on their mobile devices.
Fact # 6 – According to our own study, in terms of gender, tablet users are more or less split in two: 50% male and female. Regarding digital editions, the MPA confirmed that the same is true for digital magazine readers. In addition, 41% are graduates of higher education.
What more information would you need?
Discover the secrets of the fastest growing niche publishers today. Join us today and get your magazine publications distributed in the app stores. We offer a 2-month free trial to all B2B publishers – an android app, an iOS app and a web app for each magazine edition.
This is a game-changing strategy. Native app is the future of publishing. The cost of producing 1 native app today represents less than 1% of the total number of printed hard copies per magazine edition.