There are essentially three digital publishing platforms for B2B publishers to choose from: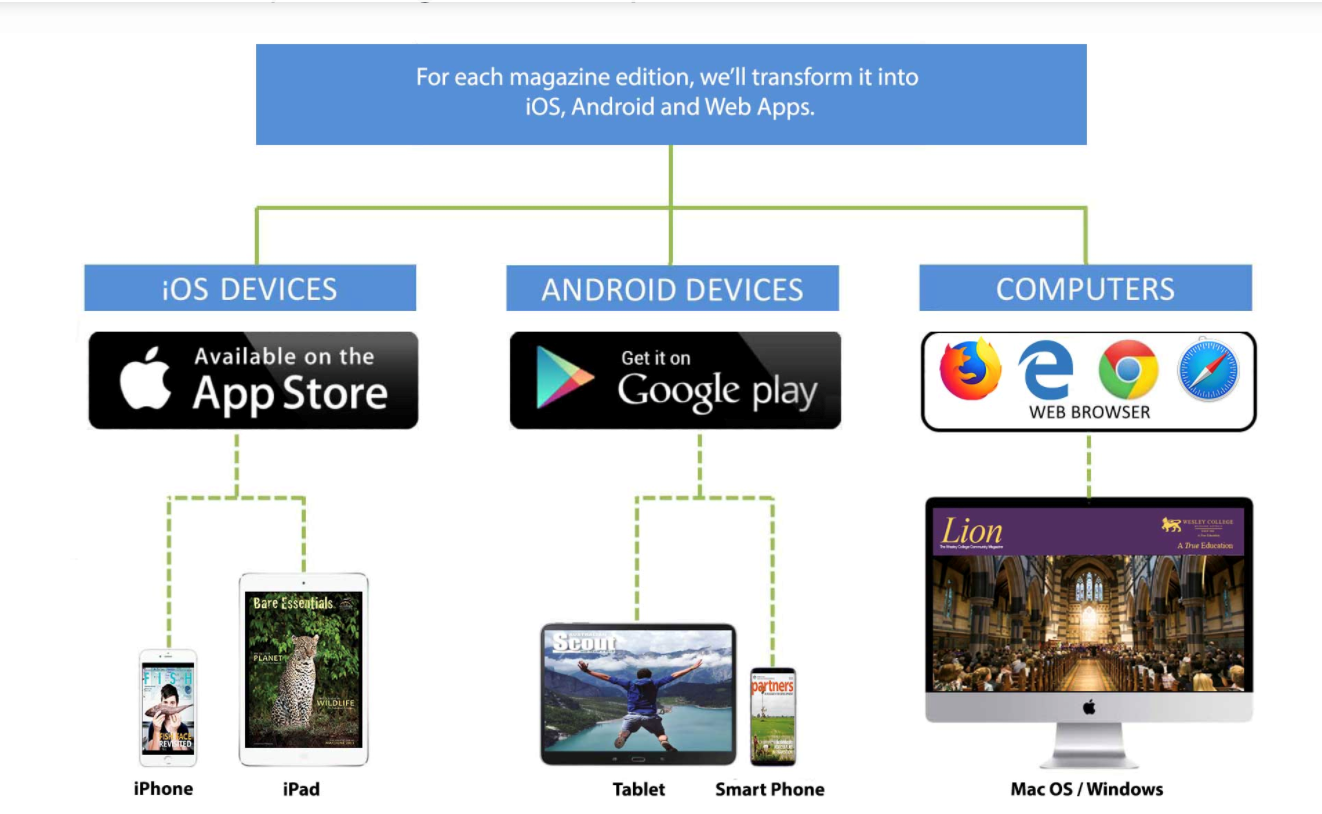 Native apps: They are built on Apple's iOS and Google's Android – the world's two largest mobile operating systems. They offer the fastest and most responsive user experience.
Web apps: They are enhanced digital flipbooks. Users can access them via a web browser as web pages.
Hybrid apps: Users install hybrid apps like native apps. They are run through an invisible browser that acts like a native application. Hybrid apps are not installed on devices but are accessed via web browsers to avoid the app stores. They are executed on web pages and adapt to a web-view display.
Additional information:
In terms of output, a low-cost hybrid app takes less than "1 minute" to transform a PDF magazine content into an app. Before 2015-19, Apple and Android premium native apps required several hours of the human workforce to convert a PDF magazine content into an app. Fast forward to now, both native and hybrid apps offer competitive performance at the same pricing.
Apple and Google's native app approval process:

Apple and Google require 7 to 14 days to approve each new magazine title. This approval process is to ensure compliance with their legal and publishing guidelines. Once approved, subsequent editions can be made live in the app stores within 24 hours.
Hybrid magazine titles do not go through Apple and Google's approval process; therefore, your B2B magazine titles are not downloadable and searchable in the app stores.

A quick price comparison:

The hybrid app price starts from $49 per month. Advanced users price starts at $269 per month.
The calculation for a typical B2B quarterly publication:

Hybrid: $49 multiply with three months equals to $147.
Our quarterly native app price starts at $175 per edition. Refer to Pricing plan.
Price differential: $175 less $147 equals to $28.
$28 separates a premium native app from a low-cost Hybrid app.

Before 2014, Apple had rejected ISSUU's hybrid apps "three times" due to their non-compliance with the Apple Review Guidelines. However, Google approved ISSUU's hybrid apps in 2014. After three rejections, Apple reversed its decision and approved ISSUU's Hybrid apps access to its iOS mobile devices in 2015. Note: they are not premium native apps.